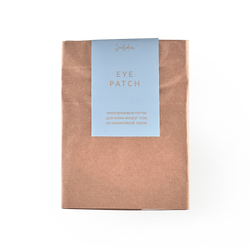 Smorodina Natural Cosmetics
Smorodina Deep Hydration Eye Hemp Cut-Out Patches, 4 Reusable Units
Reusable fabric patches made from 100% natural hemp are designed for the application of SmoRodina Eye Gel Serum.
Use and care instructions
Add 2-3 drops of SmoRodina Deep Hydration Eye Gel Serum to the patches, attach the patches to the skin around the eyes.
Leave the patches on for 10-15 minutes. Note: the patches will start drying out after 7-15 minutes. Make sure that the fabric does not dry out completely, otherwise it may leave temporary redness on sensitive skin due to the shrinkage of the fabric when drying. Patches can be wetted on top with gel for longer wear.
After removal, gently rinse the fabric with warm water, without twisting it or deforming its shape during wringing.
Dry the patches flat on the inner lid of the case or on a clean cloth.
It is recommended to store patches in a closed case to avoid contamination.
It is recommended to put the Deep Hydration Eye Gel Serum in the refrigerator for at least 30 minutes before use.
The edges of the patches are processed with a special cut, which prevents unravelling (partial unravelling is possible when the fabric is deformed).
Hemp fabric is very convenient for use. These patches are reusable: they are quite thin (which significantly reduces gel consumption and increases the holding time of the patches), they do not slip, do not deform or shrink (when using and storing according to the instructions). They only minimally unravel over time, compared to other types of natural fabrics (we did test them!). The fabric is manufactured in the Netherlands according to the strict natural standards.
The package contains: 4 lower eyelid patches made from 100% natural hemp.
The patches in the craft bag differ only in color of the label, so that you can assemble a beautiful kit to your liking.
For safe storage, convenient drying and transporting, we recommend purchasing the SmoRodina Eye Patch Aluminum Storage Case.
We wish you a pleasant use!