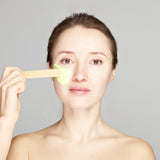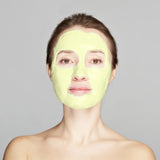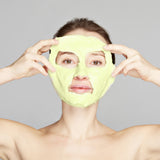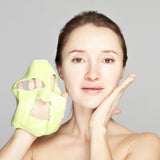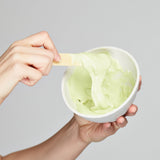 Smorodina Natural Cosmetics
Smorodina Fresh Tone Alginate Face Mask with Vitamin C, 3 Treatments
NATURALLY EVENS OUT SKIN TONE, LIGHTENS/WHITENS AGE AND PIGMENTATION SPOTS AND ACNE SCARS – This premium spa facial mask allows you to instantly lighten and even out the skin tone and make your skin feel and look younger. This alginate face mask hydrates, revitalizes and nourishes the skin by filling it with vitamins and minerals that are essential for fighting free radicals and ensuring proper skin nutrition.  
CONSTRICTS PORES, REJUVENATES SKIN AND STIMULATES COLLAGEN GROWTH – This facial alginate face mask allows you to stimulate collagen growth while constricting the pores and making your skin feel and look tighter and more resilient. It adds firmness to your skin and improves facial contour. 
REMOVES REDNESS, RETURNS SHINE, PROTECTS AND ADDS FRESHNESS TO THE SKIN – Bearberry Extract is known for its skin-brightening, soothing and antioxidant properties. Together with Vitamin C, Bearberry Extract creates strong skin protection and adds natural freshness to your face skin.  
VEGAN-FRIENDLY AND CRUELTY FREE – SmoRodina contains 99% all-natural ingredients that are gentle on all skin types, including dry, sensitive, or irritated skin making it ideal for men and women alike. 
IN-HOME SPA-QUALITY TREATMENTS – We want you to enjoy rejuvenating your skin and creating a more youthful appearance that makes you feel beautiful and confident inside and out. Each package contains mask powder enough for 3 treatments. 
Package contains 3 treatments! 
Great for all skin types. 
SmoRodina Fresh Tone Alginate Face Mask with Vitamin C and Bearberry Extract is very effective for creating even face tone, whitening dark and acne spots and protecting the skin. It naturally rejuvenates and refreshes the skin. Great for all skin types.
When you want to keep skin looking soft, youthful and radiant you want a natural way to do so. Even the face tone out and diminish the signs of aging by infusing the skin with all-natural and organic ingredients. SmoRodina Even Tone Face Mask is infused with Vitamin C and Bearberry Extract which together boost natural collagen growth and restore original skin health.
Rejuvenate, Refresh and Restore Healthy Skin
This effective peel-off face mask can help remove redness, lighten dark spots, fight free radicals and restore natural antioxidant skin protection. And all without stripping your skin of essential oils! The perfect way to tone, hydrate, and protect skin while restoring its beautiful shine.
PRODUCT DETAILS
Fresh Tone Alginate Face Mask:
Is Infused with Vitamin C and Bearberry Extract
Lightens/Whitens Dark, Age Spots and Acne Scars
Constricts Pores
Stimulates Collagen Growth
Fights Free Radicals and Protects Skin
Hydrates, Rejuvenates Skin
Contains 99% Natural Ingredients
Creates Younger, Smoother, Healthier-Looking Skin
100% Vegan and Cruelty Free
Contains 3 Treatments
Restore soft, beautiful, radiant skin with a natural facial mask that supports your skin health.
Have in-home Spa-quality treatment and choose from a variety of SmoRodina alginate facial masks to get the soft, balanced skin you deserve:
We are all beautiful by nature, so let SmoRodina Cosmetics help your natural beauty shine with its full power.
Indications
If you have an important event coming up or you just want to improve the texture and structure of you skin, this mask is for you.
Ingredients
Solum diatomeae, Algin, Calcium sulfate, Disodium phosphate, Arctostaphylos Uva Ursi Leaf Extract, Citric acid, Titanium dioxide, CI 75125 (Natural Yellow colorant)
Directions
Combine 3-5 tea spoons of mask powder and 10 tea spoons of cold water. Mix water with powder and stir well until uniform consistency is reached (free of lumps). Apply even layer of paste to face. Leave it on for 15-30 minutes until it fully hardens. When ready to remove mask, wet sides of mask first.
Recommendation: when stirring and applying the mask, do it quickly, as the mask hardens within 1-2 minutes. To avoid pipe clogging, discard used mask into garbage bin.