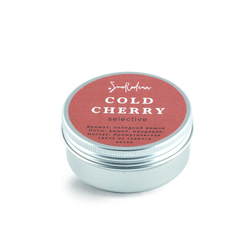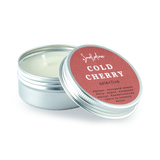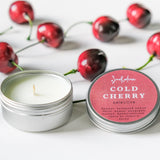 Smorodina Natural Cosmetics
Smorodina "Cold Cherry" Aromatherapy Interior Candle for Security and Lightness
This Smorodina 99% natural "COLD CHERRY" candle creates a feeling of security and lightness and lifts the mood.
Aroma: cold cherry.
Notes: cherry, mandarin, musk.
The aroma of fruits and berries gives a sense of security, lightness, and lifts the mood! Notes of sandalwood and musk will lead you into a more languid journey and help you to relax and be liberated while increasing attraction and sensuality.
All fragrances in the Selective series are created by us together with a skilled perfumer. We wanted to make a selective line of candles with unique perfume compositions for home spa relaxation and we will be very happy if you like it.

Method of use: light the candle and place it in a convenient and safe place. Extinguish the cotton wick after 2 hours of burning. Cut the wick to 0.2 in/5 mm before lighting it again. Do not leave a lit candle unattended and keep it away from children and animals. Cover the candle with a lid while extinguishing.
This candle is made of natural soy and coconut waxes. We use a lead-free cotton wick and lightweight metal packaging to reduce the carbon footprint when transporting candles.
Burning time - up to 15 hours.
Shelf life: 24 months.
99% Natural.
1.4 oz/40 g.
Ingredients
Soy wax, coconut wax, Smorodina Cold Cherry perfume composition.