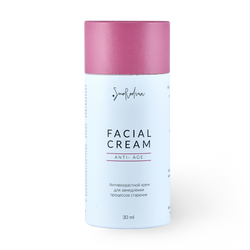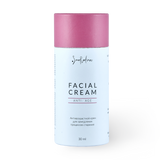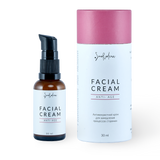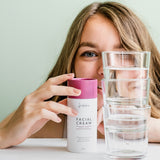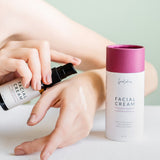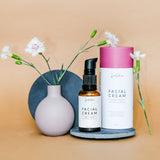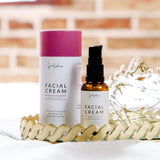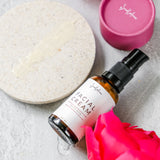 Smorodina Natural Cosmetics
Smorodina Anti-Age Face and Neck Cream with Vitamin C
This Smorodina Anti-Age Face and Neck Cream with Vitamin C contains minerals and goji berry extract. It prevents skin aging and stimulates collagen production. It has a volume of 1 oz/30 ml.
Description
Smorodina Anti-Age Face and Neck Cream contains an active complex of minerals (Magnesium, Zinc, Copper), which awakens cellular metabolism, prevents skin aging, forms disulphide bonds that prevent the skin from sagging, normalizes excessive sebum production, stimulates collagen synthesis, and enhances the energy balance of cells. It has a prolonged action (24 hours). Goji berry extract slows down the aging process, saturates the skin with oxygen, helps protect against UV rays and adverse environmental factors. The biologically active complex of low molecular weight peptides and amino acids regenerates and renews skin cells, improves elasticity, restores metabolic processes.
Directions
Apply the Anti-Age Face and Neck Cream to thoroughly cleansed skin along the massage lines (1-2 presses of the dispenser). Optimal absorption occurs after deep cleansing of the skin using Smorodina Enzyme Face Cleanser or Enzyme Face Mask.
For the best results, it is recommended to apply Smorodina serums or hydrolates before face cream application according to skin type. The results from application of the face cream are cumulative and build up over time.
Shelf life: 12 months.
100% Natural.
1 oz/30 ml.
Ingredients
Aqua*, Rosa gallica Flower Water*, Cannabis sativa seed oil*, Cucurbita pepo*, Triticum Vulgare seed oil*, Simmondsia chinensis seed oil*, Butyrospermum Parkii oil*, Undecane (and) Tridecane*, Caprylic / Capric Triglyceride**, Cetearyl Olivate*, Sorbitan Olivate​​**, Magnesium Aspartate and Zinc Gluconate and Copper Gluconate*, Cetearyl Alcohol*, Carnosine, (and) Anserine (and) Amino acids (peptides and amino acids complex)*, Ethyl ethers of unsaturated fatty acids (and) Retinyl Palmitat, (and) Tocopheryl Acetate*, Sodium Ascorbyl Phosphate*, Lycium barbarum fruit extract*, Glycine max extract*, Centaurea cyanus flowers extract*, Coffea arabica seed extract*, Trifolium rubens extract*, Rosa damascena extract*, Trehalose*, Pantenol *, Xanthan gum*, Benzyl Alcohol, Ethylhexylglycerin*, Jasminum officinale essential oil*, Commiphora myrrha essential oil*, Citrus Auraantium Dulcis Oil*, Citrus bergamia oil*
* - ingredients allowed for use in natural cosmetics
** - ingredients with organic certificates.