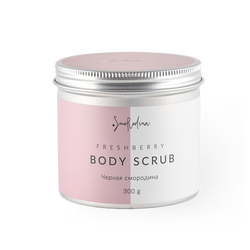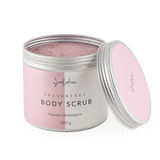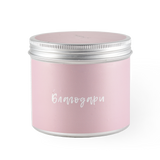 Smorodina Natural Cosmetics
Smorodina Black Currant, Natural Sugar and Salt Scrub "Appreciate"
Oh... We guarantee you will fall in love with these scrubs!!
This Smorodina Black Currant, Natural Sugar and Salt Body Scrub "Appreciate" has a strong Black Currant flavor and contains Black Currant, Shea Tree, Coconut, Cherry, Almond and Apricot particles. It has a volume of 10.5 oz/300 g. 
We have created a truly unique, aromatic series of natural sugar and salt body scrubs! Then added a pinch of love to them - a secret wish on each jar to lift your spirit!
Description
The unique consistency of the scrub, similar to jelly, is very convenient to use.
The multi-fractional complex of scrubbing components of different sizes and hardness allows you to achieve an ideal scrubbing effect.
Exotic scrubbing particles: black currant, shea tree, coconut, cherry, almond, apricot, live freeze-dried berries and superfoods! Pure luxury for the skin!
The combination of a vegetable emulsifier and surfactant gives a pleasant milky lather when washed off, leaving the skin clean, smooth and silky.
Food flavorings produce a mind-blowing scent that will make you want to taste it.
Choose a scrub based on your personal taste preferences + note the scrubbing effect of each series. 
FRESHBERRY SERIES - Black Currant. 
SCRUBBING EFFECT - Medium.
Suitable for daily use and skin care during the inter-depilation period.
Packaging: aluminum, ALU 41 marking.
Expiration date: 12 months.
10.5 oz/300 g.
Ingredients
Sugar*, Sea salt*, Water*, Butyrospermum Parkii Oil*, Cocos Nucifera Oil*, Prunus dulcis oil*, Prunus Armeniaca Kernel Oil*, Black Currant powder*, Cherry Pits*, Glycerin*, Glyceryl Citrate* / Lactate* / Linoleate* / Oleate* (and) Polyglyceryl-4, Cocoate* (and) Polyglyceryl-3 Caprate* (and) Glyceryl Caprylate*, Coco Caprylate / Caprate**, Xanthan Gum*, Benzyl alcohol (and) Dehydroacetic acid**, Food flavoring.
* - ingredients allowed for use in natural cosmetics.
** - ingredients with organic certificates.