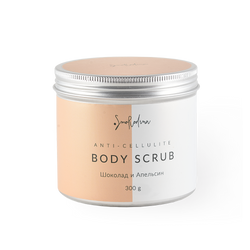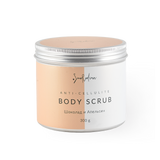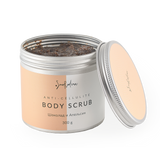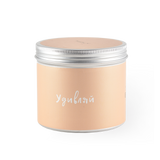 Smorodina Natural Cosmetics
Smorodina Chocolate and Orange Anti-Cellulite Sugar and Salt Body Scrub "Enchant"
Oh... We guarantee you will fall in love with these scrubs!!
This Smorodina Chocolate and Orange Anti-Cellulite Natural Sugar and Salt Body Scrub "Enchant" has a strong Chocolate flavor and contains Cocoa Powder, Orange, Coconut, Almond, Apricot, Coffee Particles. It has a volume of 10.5 oz/300 g.
We have created a truly unique, aromatic series of natural sugar and salt body scrubs! Then added a pinch of love to them - a secret wish on each jar to lift your spirit!
Description
The unique consistency of the scrub, similar to jelly, is very convenient to use.
The multi-fractional complex of scrubbing components of different sizes and hardness allows you to achieve an ideal scrubbing effect.
Exotic scrubbing particles: cocoa powder, orange peels, coconut, almond, apricot, coffee Arabica seed powder, live freeze-dried berries and superfoods! Pure luxury for the skin!
The combination of a vegetable emulsifier and surfactant gives a pleasant milky lather when washed off, leaving the skin clean, smooth and silky.
Food flavorings produce a mind-blowing scent that will make you want to taste it.
Choose a scrub based on your personal taste preferences + note the scrubbing effect of each series.
ANTI-CELLULITE SERIES - Chocolate and Orange.
SCRUBBING EFFECT - Intensive.
Suitable for daily use and skin care during the inter-depilation period.
Packaging: aluminum, ALU 41 marking.
Expiration date: 12 months.
10.5 oz/300 g.
Ingredients
Sugar*, Sea salt*, Water*, Butyrospermum Parkii Oil*, Cocos Nucifera Oil*, Prunus dulcis oil*, Prunus Armeniaca Kernel Oil*, Coffee Arabica seed powder*, Orange Citrus zest*, Cocoa powder*, Glycerin*, Glyceryl Citrate* / Lactate* / Linoleate* / Oleate* (and) Polyglyceryl-4, Cocoate* (and) Polyglyceryl-3 Caprate* (and) Glyceryl Caprylate*, Coco Caprylate / Caprate**, Caffeine*, Xanthan Gum*, Benzyl alcohol (and) Dehydroacetic acid**, Citrus aurantium Dulcis oil*, Food flavouring.
* - ingredients allowed for use in natural cosmetics.
** - ingredients with organic certificates.