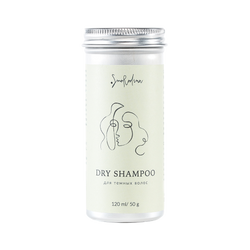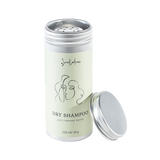 Smorodina Natural Cosmetics
Smorodina Dry Shampoo for Dark Hair, Extra Volume, No Residue, Refreshed Hair
Please note that this is dry shampoo for DARK HAIR.
Smorodina Dry Shampoo is a very convenient cosmetic product that allows you to quickly and easily clean your hair in circumstances when washing your hair is inconvenient or even impossible. A great way to quickly freshen up your hair when time is limited - before the arrival of unexpected guests or a date.
Description
Smorodina Dry Shampoo is a dry substance, a mixture of various components that absorb the sebum produced by the scalp. Suitable for all hair types and helps to keep the scalp clean and fresh without over drying the hair ends.
The beneficial effects of the shampoo:
Reduces greasiness.
Helps to preserve the color of dyed hair.
Carefully balanced active ingredients nourish and restore your hair.
Gives hair extra volume.
Directions
Comb your hair thoroughly, apply a small amount of shampoo to the hair root zone along the parting, then to the rest of hair (if necessary). Spread the powder with your fingers (lightly "whipping" it, like for a bouffant) after each dose of shampoo. Remove excess shampoo with a comb.
Now you are ready to shine and go on a date / work / walk with fresh clean hair!
Eco-friendly packaging: aluminium can, ALU 41 marking.
Shelf life: 36 months.
100% Natural.

1.7 oz/50 g. 
Ingredients
Kaolinite, rice powder, corn starch, black clay, shungite powder, sea salt, black walnut extract, cordyceps extract, gentian extract, essential oils of bergamot, mandarin, basil.