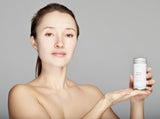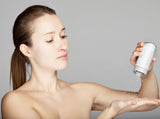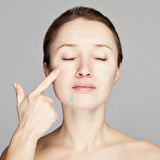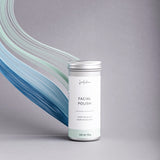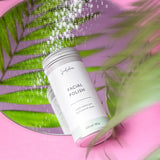 Smorodina Natural Cosmetics
Smorodina Facial Polish – Mineral Scrub Face Mask for Problem Skin
SmoRodina mineral dry face scrubs consist of a complex of minerals, extracts, acids, and scrub agents, that provide a gentle but effective exfoliation of the stratum corneum of the skin, promote cell renewal, cleanse pores from impurities and even out the skin tone. 
Smorodina FACIAL POLISH is a 3 in 1 scrub, mask and anti-inflammatory face powder:
Cleanses pores
Removes impurities and toxins
Promotes the healing of inflammations and prevents the occurrence of new ones
Renews skin cells.
Thanks to Spirulina, Kelp and yeast hydrolysates, it has an antioxidant effect and promotes skin detoxification.
Apply as any of the below: 
As a Scrub – moisten skin abundantly with water or hydrolate, apply small amount of powder to skin and massage for 1-2 minutes, adjust the pressure during massage (the scrub contains particles of different sizes and hardness), rinse with warm water.
As a Mask – mix a small amount of the mask powder with water or hydrolate to the consistency of thick cream, apply on the face with massage movements, allow to dry, rinse with warm water. Algae extracts and anti-inflammatory extracts will help to detoxify and cleanse the skin.
As Anti-inflammatory Powder – apply the powder topically to the inflamed area on dry skin. Do not rinse. In our experience, the dry method is more effective in combating inflammation.
We recommend performing 2-3 procedures a week. Suitable for sensitive skin.
Packaging: Aluminum ALU41.
Shelf life: 24 months.
100% Natural.
1.7 oz/50 g
Ingredients
Diatomite, bamboo powder, rice powder, blue clay, sulfur, zinc oxide, lithothamnia calcareum powder, spirulina, kelp, horsetail extract, licorice extract, nettle, echinacea, yeast hydrolysate.