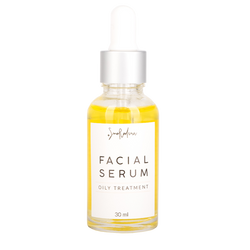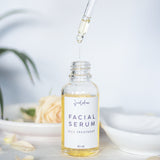 Smorodina Natural Cosmetics
Smorodina Antioxidant Facial Oil Serum, Great for Anti-Aging Procedures
Smorodina Antioxidant Facial Oil Serum. A Powerful Anti-Aging Cocktail of Antioxidant Plant Extracts Rejuvenates, Nourishes and Heals. 100% natural.
Description
SmoRodina Antioxidant Facial Oil Serum is a nourishing anti-aging cocktail for your skin. It contains polyunsaturated fatty acids, carotenoids, powerful antioxidant extracts, actively regenerates and nourishes the skin. Saturates it with vitamins, protects against drying and scaling, heals inflammation, evens out skin tone and is quickly absorbed. It has a rejuvenating effect on aging skin and actively fights free radicals.
Suitable for use under makeup and under SmoRodina alginate masks.
During periods of high solar activity, it is recommended mainly as a night care.
DOES NOT CONTAIN FRAGRANCE OR DYES. 
Packaging: glass bottle with a plastic pipette.
Pipette cap combined material - polypropylene 05 ( PP ) + aluminum 41 ( ALU ).
Please recycle bottle and the plastic part of the pipette separately.
Shelf life: 24 months.
100% Natural.
1 fl oz/30 ml. 
Ingredients
Almond oil, organ oil, hazelnut oil, grape seed oil, castor oil, carrot seed oil, broccoli oil, hydrolyzed ethylhexylolivate (olive "silicone"), subcritical CO2 extracts of sea buckthorn, rose hips, cornflower, carrot, orange, horsetail, fir, green coffee, rosemary.