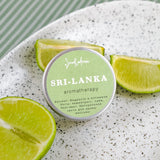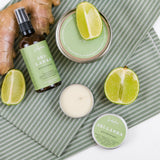 Smorodina Natural Cosmetics
Smorodina "Sri Lanka" Aromatherapy Massage Candle for Cheerfulness and Optimism
This Smorodina 100% natural massage candle "SRI LANKA" will add fresh invigorating scent of lemongrass and lime to your happy and cheerful life.
Aroma: cheerfulness and optimism.
Notes: lemongrass, lime, bergamot.
Sri Lanka is one of the Asian homelands of lemongrass. The aroma perfectly compensates for the deficit of positive emotions and cheers you up, increases activity, improves memory and concentration. The ideal choice in situations where you need a pick me up to achieve your goals!
All aromatherapy fragrances are created by us with love, from high quality essential oils and have an aromatherapy effect. They give completely new sensations, help to enjoy the depth and atmosphere of massage. Choose a fragrance according to your mood!
With the help of candles, massage will become a pleasant ritual for you and your loved ones!
Method of application: light a candle, wait 5-10 minutes, pour a small amount of oil on the palm and start the massage. The temperature of the melted oil does not burn the skin. Extinguish the cotton wick.
Burning time - up to 15 hours.
Shelf life: 24 months.
100% Natural.
1.4 oz/40 g.
Ingredients
Soy wax, coconut oil, unrefined shea butter, sweet almond oil, macadamia oil, lemongrass essential oil, lime, bergamot, cinnamon, ylang-ylang.