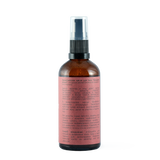 Smorodina Natural Cosmetics
Smorodina Aroma Body Oil "Cold Cherry"
Smorodina Aroma Body Oil "Cold Cherry" is a nourishing aromatic body oil with the aroma of cold cherries.   
Notes: cherry, mandarin, musk.
The aroma of fruits and berries gives a sense of security, lightness, and lifts the mood! Notes of sandalwood and musk will lead you into a more languid journey, help to relax and feel liberated while increasing attraction and sensuality.
SmoRodina Aromatic Oils contain a natural nourishing oil complex that regenerates and softens the skin, leaving it firm and healthy.
All the fragrances in the "Selective" series are created by us in cooperation with a highly skilled perfumer. We decided to make a selective line with unique perfume compositions for home spa relaxation. We hope you enjoy it, because we are in love with them!
Directions
Use to tighten and moisturize problem areas, the whole body, and also at specific body areas for aromatherapy (for example, apply a little oil on the wrist or decollete).
Shelf life: 24 months.
99% Natural.
3.38 fl oz/100 ml.
Ingredients
Unrefined shea butter, coconut wax, unrefined cocoa butter, sweet almond oil, avocado oil, macadamia oil, SmoRodina "Cold Cherry" perfume composition.